Lin & Partners wins Benchmark Litigation Asia-Pacific Awards 2019
Sep 2019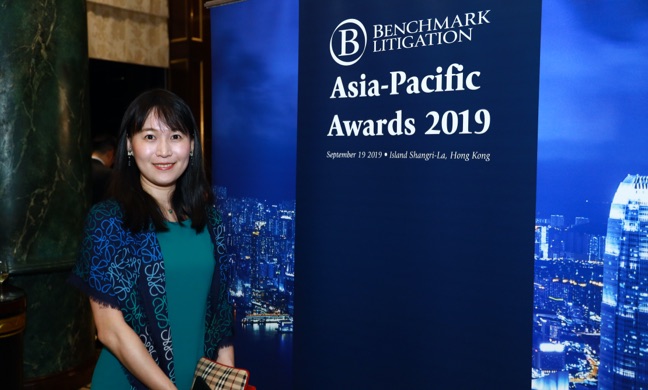 On Thursday, September 19, 2019, Asia's leading dispute resolution lawyers from 14 jurisdictions gathered at the Island Shangri-La in Hong-Kong to celebrate the fifth annual Benchmark Litigation Asia-Pacific Awards ("Benchmark Litigation Awards"). Benchmark Litigation is a US-based publication which is known for its coverage in the litigation and disputes market across the globe.
The Benchmark Litigation Awards had previously shortlisted 6 law firms and 4 attorneys in Taiwan for the 2019 "Firm of the Year" and "Lawyer of the Year" awards respectively. Among the shortlisted law firms were Lee and Li, Tsar & Tsai, Formosan Brothers, Lin & Partners and other reputable local law firms. For a full list of shortlisted law firms and attorneys, please see here.
Lin & Partners received the "Firm of the Year – Taiwan" award, and Managing Partner Dr. George Lin received the "Lawyer of the Year - Taiwan" award. At the ceremony, Benchmark Litigation specifically referred to the excellence of Lin & Partner's litigation practice for its representation of the Kaohsiung City Government 2014 gas explosion class action, and highly praised Dr. Lin's vast knowledge and experience in championing construction and financial disputes.
The firm's Chief Operating Officer and Director of Investment Practice Group, Ms. Kaiju Lee, attended the event and received the awards on behalf of both Lin & Partners and Dr. George Lin. (Photo credit: Benchmark Litigation)
During 2019, Legal500, AsiaLaw and other leading international rating agencies have also ranked Lin & Partners as Tier 1 law firm in Taiwan in the fields of Dispute Resolution, Projects & Energy, Shipping and Insurance in addition to being recognized as one of the leading law firms for Banking and Finance, Capital Markets, Corporate and M&A, Labor & Employment and Technology & Communications. Several of Lin & Partners attorneys also have been recognized and ranked as leading lawyers and rising stars in their respective practice areas.
For the full list of awards and recognitions received in 2019, please visit our awards webpage.
For the full list of the awards and recognitions which Lin & Partners received throughout the years, please visit our awards webpage.