Taipei City Government Department of Sports Selects Lin & Partners as Exclusive Legal Counsel for 2017 Universiade
March 7, 2017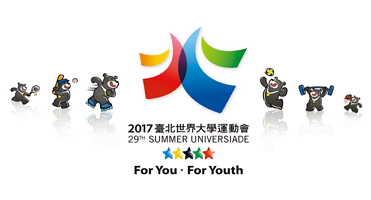 Lin & Partners, a leading Taiwan law firm to global corporations, financial institutions, and government agencies, announced today that Taipei City Government Department of Sports ("Dept. of Sports") selected the firm as its exclusive legal counsel for the upcoming Universiade Taipei 2017 ("Taipei Universiade").
Universiade is an international multi-sports athletic meeting organized by Fédération Internationale du Sport Universitaire ("FISU") for the university students, and is one of the largest sports events in the world, second only to the Olympic Games.
Dr. George Lin, Lin & Partners' founder and managing partner, will lead the firm's team of professionals to advise on all legal matters in relation to Taipei Universiade. Per the arrangements with the Dept. of Sports, Lin & Partners will provide Taipei Universiade Organizing Committee and all participating government agencies with legal services required in the course of hosting Taipei Universiade. In particular, as there will be approximately 150 delegations from all over the world, the firm has been specifically asked to handle cross-border issues.
"The win is immensely meaningful to us", Dr. Lin remarked, "it is the second time Taiwan (Chinese Taipei) hosts a major international multi-sports athletic meeting, following the 2009 World Games in Kaohsiung. Given the rarity of such as event, it is challenging for any local firm to assume the tasks. I attribute our victory in this tender to the leverage which we built through representing government agencies over the years. We have proved to the government our capability in handling various types of cases, and our strength in advising our clients with innovative approaches".
Lin & Partners is unique among law firms in Taiwan in that it maintains dedicated practice groups for infrastructure & public procurement as well as government affairs & public policy. Apart from Taipei City Government, the firm also advises, among others, Ministry of Transportation & Communications, Financial Supervisory Commission, Taiwan Power Corporation, Ministry of Health and Welfare, National Taiwan University and Taiwan Taoyuan International Airport Co., Ltd. extensively on both contentious and non-contentious matters.
For the full list of the awards and recognitions which Lin & Partners received throughout the years, please visit our awards webpage.